Months ago, five very talented writers and a kick-ass artist and I wrote a book in a day for the Kid's Cancer Project. It was a blast getting together with writers I've worked with before and meeting new faces.
We wrote "Queen Ruby's Lottery", a C.S. Lewis-styled story set in Manly, NSW, featuring Ruby, Queen of an alternate reality community.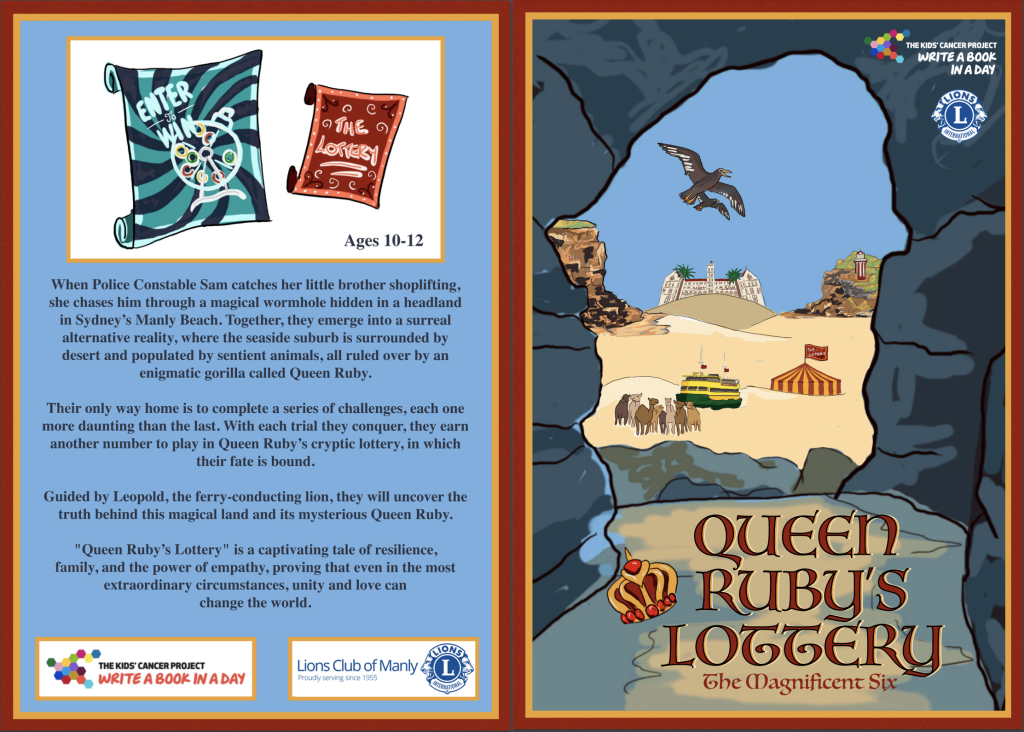 The whole project was to get sponsorship to help fund the Kids Cancer Project. If you're interested in the Write-a-Book-in-a-Day concept, you can read more about it here. Very generous sponsors of our team helped us raise of $3,300 this year. All told, over the years that we've done this, we've raised over $15,000.
And this year, we're doing something different.
We've had the book published. On December 16th at the Manly Village Public School, a bunch of the co-authors will be at the Manly Lions stall from 7:00 am to 1:00 pm with copies of the books for sale. Signing is optional (and at no extra charge). ALL proceeds go to the Kid's Cancer Project.
(Stay tuned for links to order the book online. Maybe no signatures, but profits for the first year — ALL profits) go to Kids' Cancer Project.)
If you're in the area (and I know many of you aren't — I've got readers from all over the world and am grateful for that), pop by, say hi, and maybe pick up a copy.
The book is available on Kindle if you can't make it but still want to support the Kid's Cancer Project.